America/Iceland, also called AmeIce, is a rare crack pairing created by fans. Even though they have yet to interact in cannon, they were on the cover of the 3rd volume of world stars, which was pretty nice for AmeIce fans. It has a small fanbase, and a total of 62 post in the AmeIce tag on tumblr as of May 30th 2016.
People ship them because they would bond through venting about their big brothers being into magic, love, and pixie dust but along the way find love for themselves.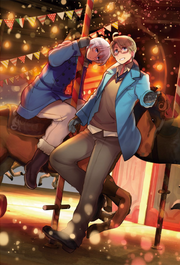 Ad blocker interference detected!
Wikia is a free-to-use site that makes money from advertising. We have a modified experience for viewers using ad blockers

Wikia is not accessible if you've made further modifications. Remove the custom ad blocker rule(s) and the page will load as expected.