Creatures of Hetalia
Talk

38
431pages on
this wiki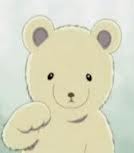 Mr. Kumajirou
Edit
Canada has a bear (Some believe it to be a polar bear while others believe it to be just a generic bear), named Mr. Kumajirou, who never can remember that his owner is Canada. Canada can never remember Kumajirou's name in return. They are almost never shown without the other. Fans abbreviate his name as Kuma sometimes.
China's Panda
Edit
China's pet Panda's name is unknown
Prussia's pet bird, seen delivering the letter to the Archduchess of Austria.