The pairing
France/Seychelles
is a pairing originating from the game
Gakuen Hetalia
. It involves the characters
France
and
Seychelles
.
It is commonly referred as Ribbon Pair (リボン組) in the Japanese fandom, maybe because of Seychelles´s ribbons.
France and Seychelles
Edit
It is said that when France discovered a young Seychelles, he was immediately interested in her. Later on, in the Christmas Rampage 2007 strip, France attempted to strip Seychelles, causing her to be afraid of him. France tells Finland that his shenanigans were largely inspired by "his girl" (Seychelles) leaving him. Meanwhile, in Gakuen Hetalia, he spends nearly every second he's around her trying to grope her.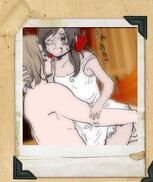 In a Christmas strip, a photo was shown with France naked and Seychelles in her undergarments in a questionable position.
Webcomic: Extra Stories
Edit
We're Shipwrecked too
Christmas Special
Ad blocker interference detected!
Wikia is a free-to-use site that makes money from advertising. We have a modified experience for viewers using ad blockers

Wikia is not accessible if you've made further modifications. Remove the custom ad blocker rule(s) and the page will load as expected.