Hetalia ~Singin' in the World~ (ヘタリア ~Singin' in the World~) is a stage musical adaptation of Hetalia: Axis Powers (though it uses branding from the sixth season of the anime, Hetalia: The World Twinkle). It is often referred to as a HetaMyu (ヘタミュ) for short, particularly on social media websites such as Twitter. Performances ran from December 24 - 29, 2015 at the Zepp Blue Theater Roppongi in Tokyo. The musical is written by Yūsei Naruse and directed by Kōtarō Yoshitani, with music by tak and choreography by MAMORU.
The main cast was announced on October 2, 2015, with names of the ensemble announced a few weeks later.
Members of the cast ensemble include Shōji Nakata, Kenshin Ikeda, Masaaki Hirano, Ryuto Imada, Daiki Mihara, Ryōta Obigane, Teppei Yamamoto, and Shō Okamoto.
Performances
Edit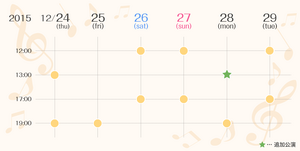 An additional performance, bringing the total to 11 performances, was announced on November 12, 2015, due to high demand of tickets. Tickets cost ¥7900 (Approx. $65.89) each, and some tickets were sold early through certain venues from October 8 - 12, 2015, while general ticket sales began on November 8, 2015.
December 24, 2015 - 1 PM
December 24, 2015 - 7 PM
December 25, 2015 - 7 PM
December 26, 2015 - 12 PM
December 26, 2015 - 5 PM
December 27, 2015 - 12 PM
December 27, 2015 - 5 PM
December 28, 2015 - 1 PM (Additional Performance)
December 28, 2015 - 7 PM
December 29, 2015 - 12 PM
December 29, 2015 - 5 PM
A number of goods related to the musical were available for sale in the lobby, and a ticket for the musical was not necessary for purchase. A DVD of the performance will be available for purchase, of which preorders have already been available and made.
DVD Release
Edit
The musical was released on DVD (Region 2) on May 25, 2016. Special features include:
Ad blocker interference detected!
Wikia is a free-to-use site that makes money from advertising. We have a modified experience for viewers using ad blockers

Wikia is not accessible if you've made further modifications. Remove the custom ad blocker rule(s) and the page will load as expected.