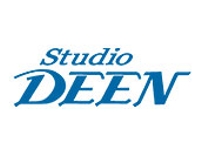 Studio DEEN (株式会社スタジオディーン Kabushiki gaisha Sutajio Dīn) is a Japanese animation company, founded in 1975 as an offshoot of the studio Sunrise. It is the company in charge of the anime adaptation of Hetalia: Axis Powers/ Hetalia: World Series.
Other Titles
Edit
07-Ghost
21 Emon: Uchū e Irasshai! (movie)
Ah My Buddha
Akahori Gedou Hour Rabuge
Akira (movie)
AM Driver
Amaenaideyo!! Katsu!!
Amatsuki
Angel's Egg (movie)
Angelic Layer
(The) Animal Conference on the Environment
Animation Runner Kuromi 2 (OAV)
Aquarion
Aria the Origination
Aria the OVA ~Arietta~
Armored Trooper Votoms
Assemble Insert (OAV)
Asu no Yoichi!
Aura Battler Dunbine
AWOL - Absent WithOut Leave
Batman: Gotham Knight (movie)
Beyblade - The Movie
Bincho-tan
Blade of the Immortal
Blood+
Bomberman Jetters
(The) Brave of Gold Goldran
Brave Story (movie)
Buso Renkin
CANAAN
Cho Denji Robo Combattler V
Choudenji Machine Voltes V
City Hunter
City Hunter: Bay City Wars (OAV)
Code Geass: Lelouch of the Rebellion
Code Geass: Lelouch of the Rebellion R2
CODE-E
Cookin' Idol Ai! Mai! Main!
Cowboy Bebop
Cowboy Bebop: The Movie
Darker than BLACK
Detective Loki
Diamond Daydreams
Dirty Pair Flash 1 (OAV)
DNA²
DNA² (OAV)
Domain of Murder (OAV)
Don't Leave Me Alone, Daisy
Doraemon
Early Reins (OAV)
Eat-Man
Eat-Man '98
Eden's Bowy
Ehrgeiz
Ergo Proxy
Eureka Seven
F
(The) Familiar of Zero
Fancy Lala
Fate/Stay night
Fate/stay night Unlimited Blade Works (movie)
First Squad (OAV)
Fist of the North Star
Fruits Basket
Full Moon wo Sagashite
Full Moon wo Sagashite: Cute Cute Adventure (special)
Fullmetal Alchemist
Fullmetal Alchemist: Brotherhood
Ga-Rei -Zero-
Getbackers
Gravitation
Ghost Hunt
Ghost in the Shell: Stand Alone Complex
Ghost in the Shell: Stand Alone Complex: Solid State Society (movie)
Ghost Slayers Ayashi
Giant Killing
Ginga Densetsu Weed
Grave of the Fireflies (movie)
Gravitation
Grrl Power (OAV)
Gurren Lagann
.Hack//Liminality (OAV)
Hakuōki
Halo Legends (OAV)
Hatenkō Yugi
Hatsukoi Limited
Haunted Junction
Hell Girl
Higurashi no Naku Koro ni
Higurashi no Naku Koro ni Kai (second season)
Higurashi no Naku Koro ni Gaiden Nekogoroshi-hen (OAV)
Higurashi no Naku Koro ni Rei (OAV)
I Dream of Mimi (OAV)
IDOLM@STER: XENOGLOSSIA
Immortal Grand Prix
Inukami!
(The) Irresponsible Captain Tylor
Itsumo Kokoro ni Taiyou wo!
Jigoku Shoujo Futakomori
Jigoku Shoujo Mitsuganae
Jin-Roh - The Wolf Brigade (movie)
Jing: King of Bandits
Junjō Romantica
Junjō Romantica 2
Kiddy Girl-and
Kimi ni Todoke
King of Bandit Jing in Seventh Heaven (OAV)
Knight Hunters
Kokoro Library
Kokoro Library - Communication Clips (special)
Kuma no Pūtarō
Kuruneko
Kyo kara Maoh!
Kyo kara Maoh! 3rd Series
Kyo kara Maoh! R (OAV)
Kyoryu Daisenso Aizenborg
Lamune
(The) Law of Ueki
Let's Dance With Papa
Lupin III: Bye Bye Liberty Crisis (special)
Lupin III: The Legend of the Gold of Babylon (movie)
Magic User's Club (OAV)
Maison Ikkoku
Maria Watches Over Us
Maria-sama ga Miteru (OAV)
Maria-sama ga Miteru 4th Season
Maria-sama ga Miteru ~Haru~
Maria-sama ni wa naisho (special)
Mashin Eiyuden Wataru
Meitantei Loki
Meitantei Loki Ragnarok
Minami no Shima no Chiisana Hikouki Birdy
Mirai Robo Daltanias
Mission-E
Mobile Suit Gundam 00
Mobile Suit Gundam 00 Second Season
Mobile Suit Gundam 0080: War in the Pocket (OAV)
Mobile Suit Gundam: Char's Counterattack (movie)
Mobile Suit Victory Gundam
Mojako
Momoiro Sisters
Mon Colle Knights
Monkey Turn V
Mouse
Naruto
Neon Genesis Evangelion
Ninja Resurrection (OAV)
Nippon-ichi no Otoko no Tamashii
Noein - to your other self
Nurarihyon no Mago
Ouran High School Host Club
Pandora Hearts
Patlabor The Mobile Police (OAV 1/1988)
Patlabor: The Movie
Plawres Sanshiro
Please Teacher! Official Fanbook (resource book)
Pokémon: Giratina and the Sky Warrior (movie)
Pokemon: The First Movie
Princess Princess
Pumpkin Scissors
Queen Emeraldas (OAV)
R.O.D -The TV-
Ranma ½
Ranma ½ OAV
Ranma ½: Big Trouble in Nekonron, China (movie)
Ranma ½: Nihao My Concubine (movie)
Ranma ½: One Flew Over the Kuno's Nest (movie)
Rave Master
Read Or Die (OVA)
Real Drive
Ruin Explorers (OAV)
Rurouni Kenshin
Sadamitsu the Destroyer
Sakura Taisen: New York NY. (OAV)
(The) Samurai (OAV)
Samurai Deeper Kyo
Samurai X: Reflection (OAV)
Samurai X: The Motion Picture
Samurai X: Trust & Betrayal (OAV)
Sands of Destruction
Seitokai no Ichizon
Sexorcist (OAV)
Shadow Skill - Eigi
Shikabane Hime: Aka
Shining Tears X Wind
Shion no Oh
Shonen Onmyouji
Shonen Santa no Daiboken
Shuffle!
Simoun
Sketchbook ~full color'S~
Skip Beat!
(The) Sky Crawlers (movie)
Sora Kake Girl
Sora no Otoshimono
Soul Hunter
Spirited Away (movie)
Star Ocean EX
Strawberry Marshmallow
Street Fighter II V
Super Atragon (OAV)
Super Mobile Legend Dinagiga (OAV)
Super Zugan
Suteki Tantei Labyrinth
Sword of the Stranger (movie)
Tactics
Tekken: The Motion Picture
Tekkonkinkreet (movie)
Tenamonya Voyagers (OAV)
Tenchi Muyo Movie 1: Tenchi in Love
Toaru Kagaku no Railgun
Toaru Majutsu no Index
Tokyo Magnitude 8.0
Toradora!
Touka Gettan
Twilight Q (OAV)
Ultra Maniac
Umineko no Naku Koro ni
Urayasu Tekkin Kazoku
Urusei Yatsura
Urusei Yatsura: Lum The Forever (movie)
Uta∽Kata
Vampire Knight
Vampire Knight Guilty
Vampire Princess Miyu
Violinist of Hamelin
Weiß Kreuz
Welcome to the NHK
When They Cry - Higurashi
Wind: A Breath of Heart
XxXHOLiC: Kei
Yami to Bōshi to Hon no Tabibito
You're Under Arrest
You're Under Arrest (OAV)
You're Under Arrest
You're Under Arrest Second Season
You're Under Arrest Specials
You're Under Arrest: Full Throttle
You're Under Arrest: No Mercy! (OAV)
You're Under Arrest: The Movie
Yume o Kanaeru Zō
Yumeria
Zenki
Zipang
External Links
Edit
Ad blocker interference detected!
Wikia is a free-to-use site that makes money from advertising. We have a modified experience for viewers using ad blockers

Wikia is not accessible if you've made further modifications. Remove the custom ad blocker rule(s) and the page will load as expected.